SUNSETS
---
PHOTOGRAPHY | LANDSCAPES | SUNRISES | LOCAL | NATIONAL
---
SUNSETS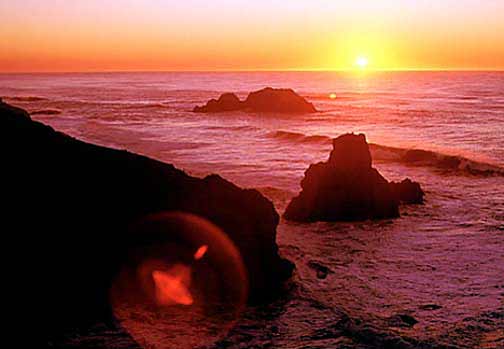 are the conclusion to a day. It's a time to stop and let the colors transform your life. All that you wanted to do that isn't finished will have to wait for tomarrow, and all that you work for can now be enjoyed. The transition is one of mind as well as tone, and though brief, it's very significant.
The colors have told ancient sailors to sail or tie down their ship. The variety is infinite, and though you may see a sunset from the same place every day, you will never see the same one twice. As we look at the setting sun we can feel the harmony of the crossover from day to night, and hear the special quietness that comes over the land. Something special is happening.
Take the time to enjoy this conclusion to the day, and give yourself that few minutes of extreme peace and awe. There never has been an ugly sunset. There may have been a few you couldn't see due to weather, but on top it was still breath-taking. Just because you can't see it doesn't mean it isn't there.
Every day above ground is a good one.
---
PRICES
for
NOTECARDS
are $3.00 each
or
$30.00 per dozen (Minimum Order)
Includes tax, shipping and handling
PRINTS
Are priced according to size and quality
Ranging from $50.00 to a few hundred dollars
---
Please note: All the images you see and the pages you see them on are covered by copyright laws and it's a lot cheaper to deal with me directly than not. Thanks for supporting the rights of the artists.

Copyright 1995 - 2001 by Michael Dunn

All rights reserved
---
ENCHANTED CREEK STUDIOS
P O Box 455
Boulder Creek
California
95006
Phone: 408-395-0881
Email: michael@enchantedcreek.com
URL: http://www.enchantedcreek.com
---
Last updated on August 18, 2003