Enchanted Creek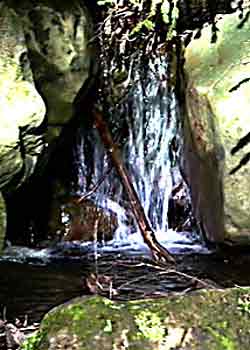 ---
This is a picture of the waterfall I look at as I cross the bridge to the studio. It's a composite digital image made up of about 30 individual frames from a video tape taken in a telephoto setting. The reason for this is that it was the only way I could figure out how to get an image that wasn't too dark in the shadows or overly washed out in the highlights.

This image is available in both a notecard or print form, both limited editions, signed and sequentially numbered. Notecards are 5" x 7" and are $3.00 each, with a minimum of a half a dozen ordered at a time, and can be mixed with other cards available from the pages on photography and digital art. There is a shipping and handling charge of $3/doxen or portion of a dozen, plus 8% sales tax. The prints are avaialble as an 8"x10" image for $40 and can be framed and mounted for an additional charge. Shipping and handling is $5.00 and again there is a sales tax of 8% added to that.

---
Please note: All the images you see and the pages you see them on are covered by copyright laws and it's a lot cheaper to deal with me directly than not. Thanks for supporting the rights of the artists.
Copyright 1995 - 2001 by Michael Dunn

All rights reserved
---
Enchanted Creek Studios
Box 455
Boulder Creek
California
95006

Phone: 408 395-0881

Email: michael@enchantedcreek.com
URL: http://www.enchantedcreek.com
---
Last updated on October 11, 2001