CELTIC BRONZE BRAIDS
---
For CELTIC BRONZE TILES please click here
---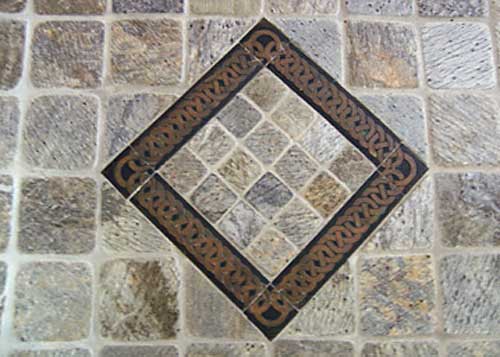 The Celtic Bronze Braids
featured here are the beginning of a series of border braids created in sizes to fit well with 4", 6", and 8" tiles and come in 1-1/2" x 6" x 1/4" and 2" x 8" x 1/4" lengths meant to work with each other to create custom overall patterns. The corner braids are small squares intended to fit with the longer braids and the end braids can be used to create a terminal to the basic braid if a straight line is what's desired. These can be assembled in different orders and patterns, and flipped end for end to create balance in your design. The color differences in these pictures are just to help show the interweaving of the braids, but the actual tiles have a black background and a uniform patina on the knots with a color choice of a Chestnut Red, a Bronze Brown, and Gold. The knot can also be left as polished raw metal, so it'll patina naturally over time and take on colors that depend on your actual environment.
I am open to special orders and commisioned work, and multiples are going to be less expensive, per item, than just one of a kind. Please contact me at michael@enchantedcreek.com for further information.
---
Basic Celtic Corner and Braid
---
CURRENT PRICES

Corner tiles - minimum order of 4

1-1/2" x 1-1/2" x 1/4" tiles - $35 each

2" x 2" x 1/4" tiles - $40 each

Braids

1-1/2" x 6" x 1/4" tiles - $65 each

2" x 8" x 1/4" tiles - $80 each

Shipping and handling, and California State Sales Taxes are additional
Contact me for further information
---
---
Please note: All the images you see and the pages you see them on are covered by copyright laws and it's a lot cheaper to deal with me directly than not. Thanks for supporting the rights of the artists.

Copyright 1995 - 2020 by Michael Dunn

All rights reserved
---
ENCHANTED CREEK STUDIOS
P O Box 455
Boulder Creek
California
95006
Phone: 408-395-0881
Email: michael@enchantedcreek.com
URL: http://www.enchantedcreek.com
---
Last updated on May 18, 2020