MISTS AND FOG
of the
SANTA CRUZ MOUNTAINS
---
PHOTOGRAPHY | LANDSCAPES | SUNRISES | SUNSETS
---
MISTS and FOG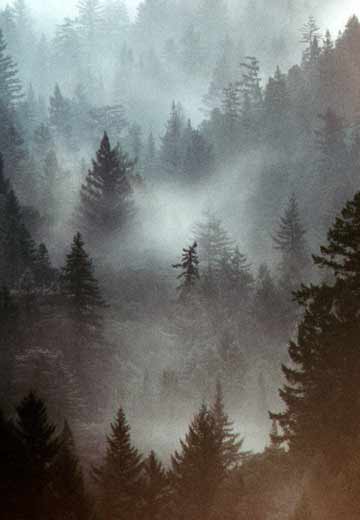 are common in this area due to the closeness of the Pacific Ocean and Monterey Bay. To some I suppose this is just overcast and dreary, dampness and coolness that is just something to wade through until the bright and sunny part of the day happens, but to me these are a beautiful and alive thing that I feel as a gift of Nature.
Living in the mountains, I get the opportunity to look down upon much of this, and there are days where it's like looking out upon a white blanket with a few green islands poking through. The air movement through the mists causes them to dance in the valleys and early in the morning the rainbows join in the display and it's just awesome to see. These pictures are only a hint of what I see, and most of what I see I never take pictures of because it's just too beautiful to capture.
The picture above is called "Morning Mists" and is taken from the road coming home.
---
PRICES
for
NOTE CARDS
are $3.00 each
or
$30.00 per dozen
and for
PHOTO CARDS
are $4.00 each
or
$40.00 per dozen
Plus sales tax,
Plus $0.50/card for shipping and handling
Shipping and handling are free
for orders of a dozen or more
of the same image.
SPECIAL NOTE
All cards are limited edition prints
and are individually signed and numbered
PRINTS
Range from $15.00 to a few hundred dollars
Depending on size and framing options
---
Please note: All the images you see and the pages you see them on are covered by copyright laws and it's a lot cheaper to deal with me directly than not. Thanks for supporting the rights of the artists.

Copyright 2003 by Michael Dunn

All rights reserved
---
ENCHANTED CREEK STUDIOS
P O Box 455
Boulder Creek
California
95006
Phone: 408-395-0881
Email: michael@enchantedcreek.com
URL: http://www.enchantedcreek.com
---
Last updated on June 21, 2003