VALLEYS
in the
SANTA CRUZ MOUNTAINS
---
PHOTOGRAPHY | LANDSCAPES | SUNRISES | SUNSETS
---
THE VALLEYS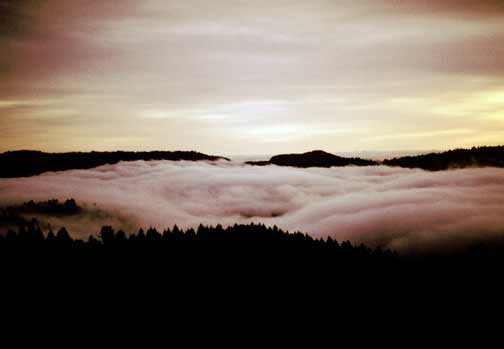 in the Santa Cruz Mountains range from the magical and mysterious to the dark and wild. Some of the valleys are open and more suited to farmland, while others are hard and untamed. Where I live is more like the latter. The winters here are sometimes very hard, and the rainfall can exceed a hundred inches or more in a single season. Flooding in this steep terrain happens more often than we like to admit to, and every year there are numerous trees down on the road, and landslides are common. The picture I'm painting is to prepare you for the images that follow. They portray a beauty and serenity and peace that can only be found in a forest setting, but under it all is this raging wilderness that you don't see unless you get intimate with it.
The valley scenes on this page are nice and gentle, for the most part, but don't let that fool you. Under the canopy lies a world that is as Nature meant it to be. Life is taken, and life is born, some live in harmony with it, and some are afraid. Look at these pictures and keep this in mind. What you see is not necessarily what you get.
The picture above is called "Valley Vortex" and is taken from the road coming home.
---
PRICES
for
NOTE CARDS
are $3.00 each
or
$30.00 per dozen
and for
PHOTO CARDS
are $4.00 each
or
$40.00 per dozen
Plus sales tax,
Plus $0.50/card for shipping and handling
Shipping and handling are free
for orders of a dozen or more
of the same image.
SPECIAL NOTE
All cards are limited edition prints
and are individually signed and numbered
PRINTS
Range from $15.00 to a few hundred dollars
Depending on size and framing options
---
Please note: All the images you see and the pages you see them on are covered by copyright laws and it's a lot cheaper to deal with me directly than not. Thanks for supporting the rights of the artists.

Copyright 2003 by Michael Dunn

All rights reserved
---
ENCHANTED CREEK STUDIOS
P O Box 455
Boulder Creek
California
95006
Phone: 408-395-0881
Email: michael@enchantedcreek.com
URL: http://www.enchantedcreek.com
---
Last updated on June 26, 2003