The Great Oak Tree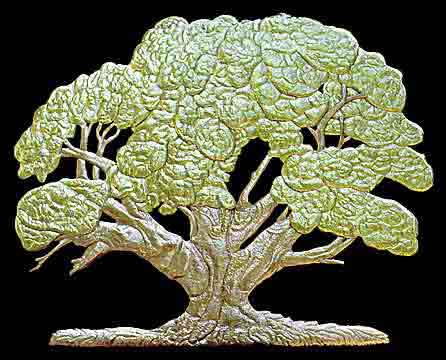 From Concept to Completion
---
Concept
---
When Kathy Weirich first called, she was trying to find a woodcarver to make a wall plaque about eight feet square. As we discussed this it turned out it was for the board room for Avon Products, Inc. in Newark, Deleware. After telling her that a carving this large would have problems over time, we talked about alternatives and decided to go with Copper and Brass as the main materials. She sent me a drawing of the tree they wanted
a picture of the board room
and the spacing of the studs and I worked up a concept drawing.
and then I drew up a plan for the armature.
---
---
To facilitate the loading of a graphics intensive page such as this, the next section is on a separate page, accessable by simply clicking on the word below.
---
Completion
---
---
Please note: All the images you see and the pages you see them on are covered by copyright laws and it's a lot cheaper to deal with me directly than not. Thanks for supporting the rights of the artists.
Copyright 2002 by Michael Dunn

All rights reserved
---
Enchanted Creek Studios
Box 455
Boulder Creek
California
95006
Phone: 408 395-0881
Email: michael@enchantedcreek.com
URL: http://www.enchantedcreek.com
---
Last updated on September 26, 2002