LOCAL WATER SCENES
---
PHOTOGRAPHY | LANDSCAPES | SUNRISES | SUNSETS
---
WATER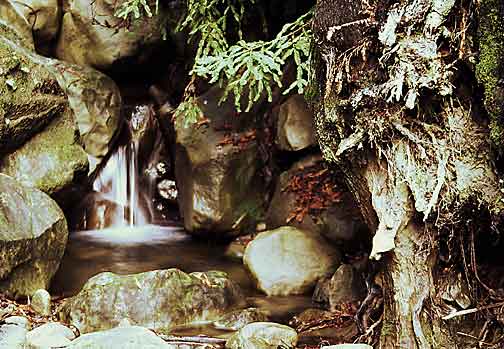 is vital to life, and expresses itself in three basic forms here in the Santa Cruz area. Featured here are images of all three. Some pictures are focused on the liquid form, such as the ocean and the creeks and waterfalls in this area, while others let you feel the mood of the clouds and fogs and mists that happen here. Then there is the solid state of water, and we do have snow now and then, so I've included a few pictures where the frozen state of water is a vital element.
Water is with us in so many ways and yet we often take it for granted. I hope that in viewing these images you are reminded of what a precious and beautiful resource this is.
The picture above is called "Mystic Pool" and is taken from my bridge looking upcreek.
---
PRICES
for
NOTE CARDS
are $3.00 each
or
$30.00 per dozen
and for
PHOTO CARDS
are $4.00 each
or
$40.00 per dozen
Plus sales tax,
Plus $0.50/card for shipping and handling
Shipping and handling are free
for orders of a dozen or more
of the same image.
SPECIAL NOTE
All cards are limited edition prints
and are individually signed and numbered
PRINTS
Range from $15.00 to a few hundred dollars
Depending on size and framing options
---
Please note: All the images you see and the pages you see them on are covered by copyright laws and it's a lot cheaper to deal with me directly than not. Thanks for supporting the rights of the artists.

Copyright 2003 by Michael Dunn

All rights reserved
---
ENCHANTED CREEK STUDIOS
P O Box 455
Boulder Creek
California
95006
Phone: 408-395-0881
Email: michael@enchantedcreek.com
URL: http://www.enchantedcreek.com
---
Last updated on June 18, 2003