CELTIC HEART
---
CELTIC HEART
Michael Dunn
Limited Edition Bronze Tile
Size: 8" x 8" X 3/16" Unframed
Price: $300 (plus shipping and sales tax)
Edition size: 1000
---
Size: 6" x 6" X 3/16" Unframed
Price: $220 (plus shipping and sales tax)
Edition size: 1000
The Celtic Heart is a design I've been working on for a few years to make it right for these tiles, and is has some real nice curves and flows to it. It's an example of a progression from strands that are a continuous width to a knot form where the strands thicken and thin out with the flow of the weave. This is a new tile as of mid February of 2006 and the tile pictured above is the first of this limited edition set, and has an edition number of 1/1000

The above picture is of the tile framed for hanging. In this case the woods used are Oak and Walnut, and as of the end of 2007 two have been framed in this manner. If this is of interest to you, please contact me and we can discuss the woods used and the price of the frame and mounting.

Pictured below is the same tile after it had been flattened and all the machine work was finished and a black patina was applied to the tile as a whole. The knot portion was then sanded off and close to ready for the final patina on the knot. I picture this here for those that prefer the tile for a floor accent piece since the patina on the knot would get scuffed off eventually. For this reason the floor tiles are usually ordered with the background black patina and the knot portion polished left as raw metal. After waxing the background is a distinct black, and the knot is a bright gold.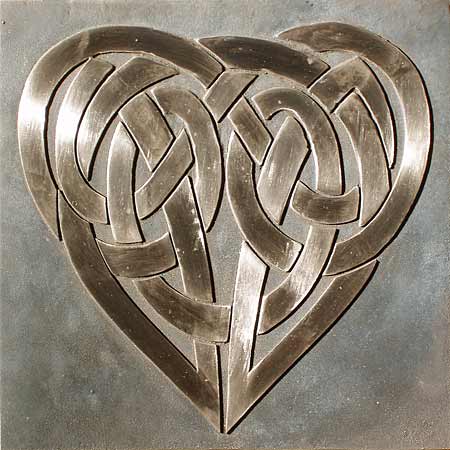 The tile, itself, is the same size as a normal 8" or 6" ceramic tile, so it can fit nicely into an entry way, kitchen back splash, above a fireplace, or inset into a rock wall bordering the drive. It can also be tapped and drilled and can be attached from the back. This option is an additional charge. The patina varies from tile to tile, and can be specified as to color and depth, within the limits of normal bronze colors, i.e. brown, black, gold, chestnut, and a reddish-brown.
---
To purchase from

Enchanted Creek Studios

Email: mdunn@enchantedcreek.com

Phone: 1-408-395-0881

Write:
Box 455
Boulder Creek, CA
95006
---
---
Please note: All the images you see and the pages you see them on are covered by copyright laws and it's a lot cheaper to deal with me directly than not. Thanks for supporting the rights of the artists.

Copyright 1995 - 2008 by Michael Dunn

All rights reserved
---
ENCHANTED CREEK STUDIOS
P O Box 455
Boulder Creek
California
95006
Phone: 408-395-0881
Email: michael@enchantedcreek.com
URL: http://www.enchantedcreek.com
---
Last updated on December 31, 2007