GOD can take many forms and this is one of them. This is a commissioned work for the Eternal Father Eucharistic Adoration Chapel, St. Alexander Parish, at 130 S. Cornell Ave. in Villa Park, Illinois, ordered by Jeanine Frank, in 2000. When she asked me if I could carve a plaque of God, my first question was, "What, exactly, does God look like?" Since this was going to be for a small Catholic chapel, I wasn't surprised when she described a robed and bearded figure with His arms outstreatched to embrace His children, and so the picture she sent was of that type of a figure, but as you can see, it was lacking in detail.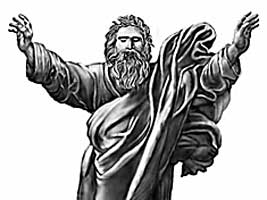 The first thing I needed to do was to work up a drawing that I could carve from, and since this was to be 33" x 30" x 3" it took some time just in the design phase. In the process I went through some deep spiritual changes, and came to understand that what I was doing may have been a commissioned work for Jeanine, but on a deeper level I was doing this for God and what was important was to do this as best as I could and make it beautiful. It took a lot longer than any of us figured to get it right, but as I worked through the different phases of this project I learned a lot.

After we got the drawing to what she desired, which included opening His eyes rather than having them shut as in the original sketch, I rendered out a colored graphic of what the plaque would look like finished. Then I had to make up a full-scale clay model in order to get the depth right in the final carving, as that's the way I was taught in the carving school in Switzerland to approach something of this calibre.
Carving this was a major challenge to me from a lot of different angles. First I had to obtain the wood, and believe it or not, Walnut is in short supply in America. At least good quality Walnut is. What I needed was enough wood to make up a solid piece 33" wide, 30" high, and 3" thick, with no knots, twists, cracks, warps, bends or twists and all of a fairly cnsistant color, density and grain structure. I couldn't get that here in California, so I appealed to my very good friend, Tom Magruder, who is the head architect for Fort Leonard Wood in Missouri, to go to the mills there and select what I needed right where they grow the trees. This turned into a major ordel for him as he found that the wood there, although better than here, wasn't satisfactory for something like this, and so he wound up ordering it through a chain of people and found a tree in Mississippi that fit my criteria and they milled it into 3/4" planks and steamed it to stabilize and dry it so it'd remain flat. That was a real nice batch of wood I got to work with. I then needed to make it a uniform thickess and create a tongue and groove edge on all the boards and then glue them all together. It took 4 layers to do this and each layer was pre-cut on the bandsaw to roughly the shape of the figure at that level. The background was the only full layer but it was also the only one that was flat, and it took a lot of sanding and scaping to get it to a true flat. Anyway, The actual carving took a lot longer than I thought it would, mostly due to the hardness of this stock, which was VERY solid. As it turned out Jeanine and Joe, her husband, arranged for me to fly to Chicago on the 14th of December and return home on the 18th, which set a definate deadline that crept closer as I worked to complete this. All things happen in God's own time and this was one of those kind of situations. I didn't finish the carving before I left, but was only a few hours away from completion when I flew out there with it, intending to finish it there.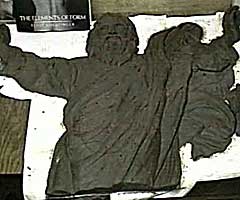 Chicago can be pretty cold in the winter. The winter of 2000-2001 was the coldest, quickest winter they'd seen in many years. It we 30-35 degrees below zero and flying in was subject to cancellations and delays. The ailine was on strike and there were other things that made this indeterminate, but it all worked out and I arrived to see everything frozen and very white. They had a group of friends from the church over that first night there all expecting to see this plaque finished and ready to hang, and so there was a degree of dissapointment amongst them, plus the work that needed was the detailing of the hands and face, which was what they wanted to see the most. The next day we - Jeanine, Joe, and their sons, John and James, and I - went to the museum in Chicago and saw Sue, the huge T. Rex they have on dispay there. That was awesome to see, and I highly reccomend it. We also saw the Russian Gold exhibit featuring everything from ancient religious and political artifacts and clothing and jewelry to modern works of art, all in gold and precious stones. That was a great day in spite of the cold, and I got to see some of the city and what it's like there in the winter. The next couple of days I spent carving and detailing the features and meeting some of their friends and family and this was a very special group of people. More than a job or a commission or anything else it was a pathway to making some new and good friends.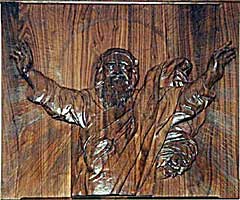 I did finish the carving , but I was working on it unitl a few minutes before I was taken to the airport to return to California. I never saw it oiled and waxed, and that's where all the carving marks and subtlities show up. There are reflections that never happened in the raw wood, and contrasts in lighting that don't occur until it is actually finished. What I do have is a few pictures that they sent me, and I think they are going to send me better ones when they have a professional photographer take some properly lighted pictures.
This project was a priviledge to be a part of. It took more than just myself to bring it into reality, and I want to thank Jeanine for the opportunity to do this, as well as my friend, Tom, for all the energy he put into it as well as his fine eye and selection of wood. Joe was a great person to meet with a lot to share and their sons, John and James were a couple of the finest young men I've met. All their friends were just great and I think we all felt the presense of God in all of this.

Bless you all.