CELTIC BRONZE TILES
---
For BRONZE BRAIDSplease click here
To see tiles in their settings please click here
---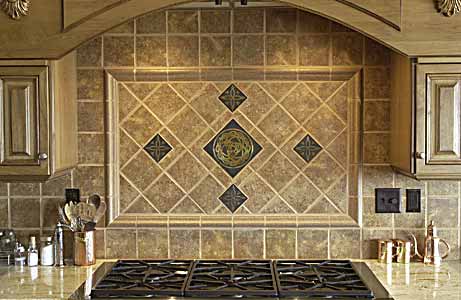 The Celtic Bronze Tiles
featured here are an evolving series of bronze tiles that are limited edition sculptures intended for practical applications. They have been used in the floors of entrance ways, above mantels and in kitchens, alongside fireplaces, and inset into exterior pillars accenting a driveway, and can be applied to a wide variety of uses. The edition size of each of them is 1000, and are all initialed and numbered by the artist. The typical size I've been making them in is 8" x 8" x 3/16", 6" x 6"x 3/16", and 4" x 4"x 3/16". Custom tiles can be made with most any design that you may be partial to, but there would have to be an additional charge for making the original model and mold. In this case the charge would vary according to complexity, size, and if the design has a wider market that it'd appeal to. The price may change over time according to the cost of casting, which varies according to the cost of the base metals, investment, and fuel to make them and is dictated by the foundry. I recently had to raise the price due to increased foundry charges and because I had to increase the thickness to avoid a lot of problems we were having with bad pours and warping, and I apologize for that, but it can't be avoided, as the cost for casting is based on weight. The previous tiles were 5/32" thick and either had ribs on the back or tabs in the corners to bring them to 1/4" thick. The thickness of the tiles are now 3/16" and do not include tabs, or bosses, as they are properly known. The typical installation did not require the bosses, and they made casting more complicated, and many times they needed to be cut off and threaded rods welded on instead. When ordering I'll need to know how the tiles are going to be applied, and where they will go to make them appropriate for your particular use. The typical turnaround time from the time the order is placed is two weeks, depending on the back-load at the foundry. These tiles are substantial as bronze is fairly dense, and so the 8" tiles weigh about three pounds each. This is important if you plan on mounting the tile to a wall and must be planned for.

The picture above is courtesy of Devin Conner and shows how he applied an 8" Celtic Triple Knot Tile and four 4" commissioned bronze tiles to his kitchen back-splash area.

If you'd like to see some of the other tile installations, I have made a separate page for them, as the pictures are a little slow to load for those on a dial-up connection. To see this page, click here.

PLEASE NOTE: The pictures below demonstrate the range of patinas available, and vary from tile to tile. No two are alike. The color range I work in can be called, "Chestnut," and is best seen in the Heart Rosette where you can see the yellows, reds and browns and how they meld into each other.

See below for pricing announcements and guidelines.

I am also open to special orders and commissioned work, and multiples are going to be less expensive, per item, than just one of a kind.

Please contact me at michael@enchantedcreek.com for further information.
---
Celtic Triple Knot
---
CURRENT PRICES

8" x 8" x 3/16" tiles - $325 each

6" x 6" x 3/16" tiles - $250 each

4" x 4" x3/16" tiles - $175 each

SPECIAL NOTES:

Additional charges:

Tabs, bosses, studs, and threaded rod to be welded on the back of the tiles are $10.00 each, up to 2" long.

Shipping and handling charges depend on the order and distance from California. UPS or Priority mail available.

California State Sales Taxes are added for California residents
Contact me for further information
---
---
Please note: All the images you see and the pages you see them on are covered by copyright laws and it's a lot cheaper to deal with me directly than not. Thanks for supporting the rights of the artists.

Copyright 1995 - 2020 by Michael Dunn

All rights reserved
---
ENCHANTED CREEK STUDIOS
P O Box 455
Boulder Creek
California
95006
Phone: 408-395-0881
Email: michael@enchantedcreek.com
URL: http://www.enchantedcreek.com
---
Last updated on May 16, 2020