The Studio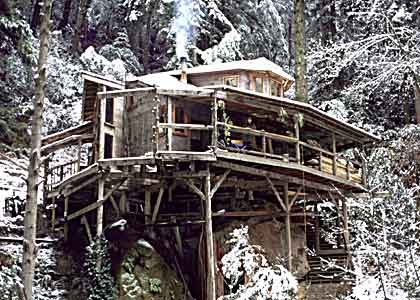 sits on top of three 25' high boulders that overlook one of Enchanted Creek's small waterfalls. It, like a lot of artist's studios, is continually undergoing change through construction and destruction, addition and subtraction. It's undergone and withstood a lot, including a small tornado, landslides, falling trees, winters that have seen as much as 125" of rain, and the Quake of '89. It is constructed mostly from the materials at hand - a lot of the lumber was milled from naturally downed trees here on the land, some as old as a thousand years or more, and others left from the logging operations back in the 1850's-60's. Redwood is the main building material, and you will see it in almost all aspects of this studio, from raw lumber and beams to window casings, furniture, and picture frames. Douglas Fir was used for the main framework, and River Alder was the choice for the interior paneling and trim. Tanbark Oak was also used in a few places for such things as stair treads and door casings. The original physical size of the studio was basically two stories, split-level, and about 35' wide and 30 feet deep, so it works well for the different projects I get involved in.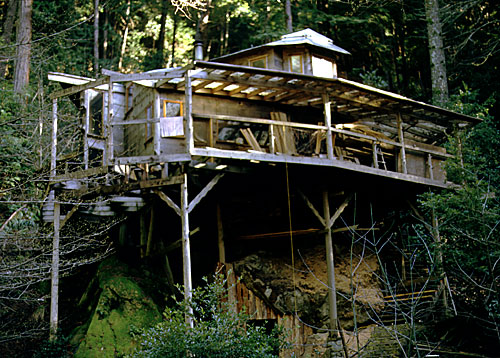 It was initially started back in 1976 and evolves in spurts as time and cash flow allow. Much is still unfinished, as it's more of an art project, a large-scale wood sculpture, than it is a building or commercial construction. The plans and ideas are great, but there is still a lot of room for innovation, especially on the inside where the actual working space keeps changing to accommodate the different media I work with. The biggest obstacle I've had to work with here has been the road - 4.5 miles of dirt goat-track that's somewhat together for about half the year, and mud the rest. This made the 10 acres that the studio sits on affordable, and gave me the isolation I needed to build such a thing. A lot of what goes on here involves more than just the studio, and the majority of my energy is spent outside the studio rather than in it. With not much to listen to other than Enchanted Creek, I'm able to concentrate and focus on longer-term projects, with a minimum of distractions, and the work I do reflects the beauty, peace, and tranquility of this very special place.
Somewhere around 2012 I started an addition to the studio in order to have a better living space and it evolved to more than 2000 square feet that included two floors and almost a new home. Below is a picture of what it looks like in 2020 and it's still under construction as you can see in the picture.